Power Wirewound Resistors
(AK, P & C Series)
---
FEATURES:

Resistance Tolerance: 5%, 3%, 1% std
(Accuracies available to .05%)
Standard Resistance Range: .1Ω to maximum listed.
Temperature Coefficient: 90ppm/°C less than 1Ω ; 50 ppm/°C 1 Ω to 10Ω ; 30 ppm/°C 10Ω to 100Ω ; 20 ppm/°C 100 Ω and above.
Short Term Overload: 5 seconds at 5 times rated power.
Operating Range: -55°C to + 250°C (U Rating) or +350°C (V Rating)
Covering: Flame Retardant Silicone (Molded & Coated)
Windings: Space wound on Ceramic or Alumina Oxide Cores.
Non-inductive windings are available & identified by adding an "N" in front of the style number.
Divide maximum resistance by 2 for non-inductive windings.
"U" and "V" wattage ratings and derating curves are based on MIL-PRF-26 characteristics. "V" ratings are intended for 5% tolerance units, and result in operation at a hotspot of approximately 350°C; "U" ratings govern 3% through .1% tolerances and result in a hotspot of approximately 250°C
RoHS compliant, Pb-Free construction available.

Space Miser Power Resistors -- AK Series

KRL
STYLE

MIL-
PRF-
26E

WATTAGE RATING

MAXIMUM
WORKING
VOLTAGE

DIELECTRIC
WITHSTAND

MAX.
RESIST.
IN
OHMS

DIMENSIONS

LEAD AWG

U

V

LENGTH
± .062

DIAMETER
± .032

AK-1
RW-81

1.0

--

58V

500V

3.4KΩ

.250

.094

24 (.020)

AK-2

1.5

--

82V

500V

4.5KΩ

.312

.094

24 (.020)

AK-3
RW-80

2.25

--

150V

500V

10KΩ

.406

.094

24 (.020)

AK-5

4.0

5.0

261V

1KV

22KΩ

.560

.158

20 (.032)

AK-5C

5.0

6.5

181V

1KV

32KΩ

.500

.250

18 (.040)

AK-6

6.0

7.0

295V

1KV

45KΩ

.625

.250

18 (.040)

AK-10

7.0

10.0

444V

1KV

90KΩ

.875

.312

18 (.040)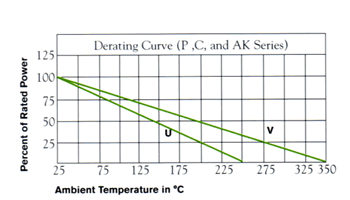 Wirewound Power Resistors -- P & C Series

KRL
STYLE
MIL-PRF-26
MIL-PRF-39007
WATTAGE

MAXIMUM
WORKING
VOLTAGE

DIELECTRIC
WITHSTAND
VOLTAGE

MAX.
RESIST.
IN OHMS

DIMENSIONS
LEAD AWG
RATING
LENGTH
DIAMETER

U

V

± .062

(± .010)

± .032

(± .010)

C-1/4

.5

1.0

58V

500V

3.4KΩ

.250

.094

24 (.020)

(P-1/2)
C-1/2

.75

1.2

73V

500V

4.5KΩ

.280

(.300)

.094

(.120)

24 (.020)

(P-1A)
C-1A
RW-70

1.0

1.5

122V

500V

10KΩ

.406

(.425)

.094

(.120)

24 (.020)

C-1B

1.1

1.6

139V

500V

12KΩ

.530

.094

24 (.020)

(P-1C)
C-1C

1.0

1.5

87V

500V

5KΩ

.330

(.360)

.094

(.120)

24 (.020)

C-1D

3.25

4.5

406V

500V

38KΩ

.700

.110

20 (.032)

C-2

1.5

2.0

141V

1KV

10KΩ

.385

.187

20 (.032)

C-2A
RW-79

3.0

3.75

257V

1KV

22KΩ

.560

.187

20 (.032)

C-2B
RWR-71

3.25

4.75

444V

1KV

42KΩ

.812

.187

20 (.032)

C-2C

3.0

3.5

181V

1KV

32KΩ

.500

.250

20 (.032)

C-2D
RW-69

2.5

3.0

212V

1KV

20KΩ

.500

.210

20 (.032)

C-2E

3.0

3.75

261V

1KV

22KΩ

.560

.158

20 (.032)

C-2F

2.5

3.0

210V

1KV

20KΩ

.490

.158

20 (.032)

C-3

4.0

5.5

295V

1KV

45KΩ

.625

.250

20 (.032)

C-4

5.0

6.0

444V

1KV

65KΩ

.875

.250

20 (.032)

C-5
RW-74
RWR-74

5.0

6.0

444V

1KV

90KΩ

.875

.312

18 (.040)

C-6
RW-67

6.0

6.5

488V

1KV

100KΩ

1.000

.312

18 (.040)

C-7

7.0

8.0

730V

1KV

100KΩ

1.200 ±.094

.312 ±.062

18 (.040)

C-7A
RW-55

7.5

9.0

800V

1KV

150KΩ

1.375 ±.094

.375 ±.062

18 (.040)

C-10A
RW-78
RWR-78

10.0

12.0

1KV

1KV

275KΩ

1.780 ±.094

.375 ±.062

18 (.040)
P = Molded ( ) C = Coated